White House denies claims Trump disclosed classified information to Russia
Comments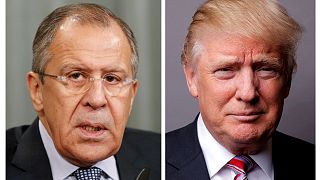 Monday was another tough day for President Donald Trump in the press.
I was in the room, it didn't happen.

National Security Adviser
Once again, his relationship with Russia came under intense scrutiny, this time from the Washington Post, who revealed claims that the US leader had disclosed highly classified information to Russian foreign minister Sergei Lavrov.
Trump was said to have revealed intelligence regarding US military operations against ISIL, during a meeting with Lavrov last week, according to the report, potentially jeopardizing cooperation from an ally with access to the inner workings of the extremist group.
The White House swiftly denied the allegations, with National Security Adviser H.R. McMaster saying: "I was in the room, it didn't happen."
"The story that came out tonight, as reported, is false. The president and the foreign minister reviewed a range of common threats to our two countries including threats to civil aviation. At no time were intelligence sources or methods discussed. And the president did not disclose any military operations that were not already publicly known," he said.
The Washington Post report said that although Trump did not explicitly reveal specific details about sources, he did provide highly classified detail apparently connected to an ISIL plot related to the use of laptops on board planes.
"During President Trump's meeting with Foreign Minister Lavrov, a broad range of subjects were discussed, among which were common efforts and threats regarding counter-terrorism," Secretary of State Rex Tillerson said.
"During that exchange, the nature of specific threats were discussed, but they did not discuss sources, methods or military operations."
The White House did not provide any further information regarding the meeting after the story broke.