UN: North Korea is a 'threat to peace'
Comments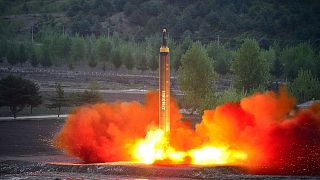 The United Nations Security Council has condemned North Korea's ballistic missile testing in recent months as a "threat to peace".
The secretive communist regime launched a medium range rocket on Sunday, which was deemed by some to have been a sinister message to South Korea days after its new president took office.
STEPHANEDUJARRIC, SPOKESMANFORTHE UN SECRETARY-GENERAL
Stephane Dujarric, a spokesman for the UN Secretary General, said: "This action is in violation of Security Council resolutions and a threat to peace and security in the region. The secretary-general calls on the DPRK to ensure full compliance with its international obligations and return to the path of denuclearization."
The Hwasong-12 rocket, which is believed to have been among the missiles parade during a show of North Korea's military might in Pyongyang last month, was launched on Sunday and reportedly traveled over 700 kilometres, before crashing into the sea of Japan.