Turkey's Erdogan in US to meet Trump at White House
Comments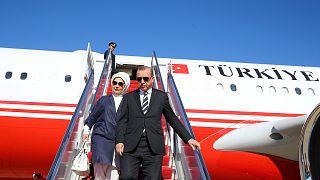 The Turkish President Recep Tayyip Erdogan has arrived in the US for his first meeting with Donald Trump at the White House.
Their two countries are allies in the fight against the so-called Islamic State but Turkey is furious at American plans to arm Syrian Kurds, seen in Ankara as terrorists.
Erdogan welcomed Trump's election victory last November. In turn Trump congratulated Erdogan over his referendum victory according him sweeping new powers.
The US leader has approved plans to supply the YPG as it advances towards the ISIL stronghold of Raqqa. Washington sees the group as distinct from the PKK and its decades-long insurgency in Turkey. But Ankara believes one is an extension of another.
Erdogan has been lobbying for the release of Reza Zarrab, a Turkish-Iranian businessman charged with helping Iranian officials avoid US sanctions.
The Turkish president is also seeking the extradition from the US of the exiled cleric Fethullah Gulen, accused by Ankara of orchestrating last July's attempted coup – an allegation he denies.
Turkish media say dozens more government staff have been detained as part of the investigation targeting Gulen's network.
Trump's meeting with Erdogan comes with both leaders under scrutiny for their authoritarian methods.
The US president's first foreign trip is scheduled for later this week, taking in the Middle East and Europe.
President Erdoğan in the U.S. https://t.co/1aN2DKZnOupic.twitter.com/4ycUVqmhSo

— Turkish Presidency (@trpresidency) May 16, 2017
Fethullah Gulen's op-ed at washingtonpost</a>: The Turkey I no longer know <a href="https://t.co/7sAYZD9Oc4">https://t.co/7sAYZD9Oc4</a></p>&mdash; Fethullah Gülen (FGulencomEN) May 16, 2017