New US ambassador to Israel sworn in amid diplomatic row
Comments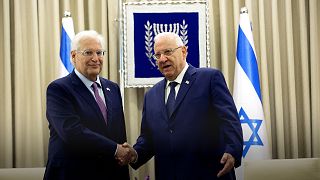 The new US ambassador to Israel has been sworn in at a ceremony in Jerusalem.
David Friedman was greeted by Israel's President Reuven Rivlin. A lawyer by trade and an orthodox Jew, he's previously raised funds for a Jewish settlement in the occupied West Bank captured by Israel 50 years ago.
Donald Trump has called the new ambassador a longtime friend and trusted adviser.
But the appointment has been overshadowed by controversy over comments by another diplomat preparing the US president's visit to Jerusalem next week, who described Judaism's Holy Western Wall in its Old City as part of the Israeli-occupied West Bank.
Friedman departed from diplomatic protocol upon his arrival on Monday by visiting the wall – a highly unusual move for a new envoy.
It comes as the two countries are debating Trump's election pledge to move the US embassy to Jerusalem from Tel Aviv.