Britain's Labour party promises a vote on Brexit deal if it wins election
Comments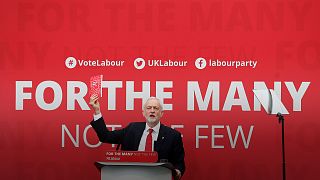 Britain's opposition party has launched its manifesto ahead of next month's election with a promise that its stance on Brexit would benefit ordinary people and not the City of London.
Only Labour has the plan to make Brexit work for ordinary people

Labour Party leader
A proud day for us in UKLabour</a>: our Manifesto has just been released. <a href="https://twitter.com/hashtag/ForTheMany?src=hash">#ForTheMany</a>. Read it, discuss it, share it: <a href="https://t.co/nXm01GIrNd">https://t.co/nXm01GIrNd</a> <a href="https://t.co/wTIZBfpwBe">pic.twitter.com/wTIZBfpwBe</a></p>&mdash; Jeremy Corbyn (jeremycorbyn) May 16, 2017
And whilst Labour say they respect the referendum result, they've promised a vote in parliament would be held on the final Brexit deal.
The manifesto also pledges to introduce an EU Rights and Protections Bill to ensure that: "There is no detrimental change to workers' rights, equality law, consumer rights or environmental protections as a result of Brexit."
Addressing a crowd of supporters in Labour party leader Jeremy Corbyn made his pitch:
"Only Labour has the plan to make Brexit work for ordinary people. We're clear there is now a choice. Labour Brexit that puts jobs first or a Tory Brexit that'll be geared towards the interests of the City of London and risk making Britain a low-wage tax haven."
In other manifesto promises Labour says it will raise taxes on people earning more than the equivalent of 82,000 euros a year as well as crack down on tax avoidance.
It claims those measures would raise an extra 56 and a half billion euros.
The ruling Conservative party has dismissed the figures, saying they don't add up.
And launching perhaps its most radical policy, Labour pledges to re-nationalise the railways and some of Britain's water companies.