Macron meets Merkel to push EU reform idea
Comments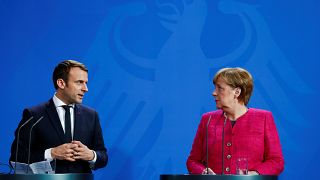 Newly-elected French president Emmanuel Macron has wasted little time in pushing forward his desire to reform the European Union.
He met with German chancellor Angela Merkel just a day after his inauguration.
They agreed to draw up a roadmap for deeper integration of the EU during talks in Berlin.
The couple sought to reinvigorate the Franco-German relationship and the European project, after being shaken by Brexit.
Ceux qui croient dans l'Europe ont besoin de pouvoir apporter aux autres la preuve qu'elle marche. Cela nous oblige à avoir des résultats. pic.twitter.com/2AbYdF9OZX

— Emmanuel Macron (@EmmanuelMacron) May 15, 2017
Merkel said: "We agree that we want to develop a road map for the European Union's medium-term perspective.
"There is a common conviction that we cannot only deal with Britain's exit, instead we must above all think about how we can deepen the existing European Union and especially the Eurozone."
Macron added: "The Franco-German relationship needs to renew its pragmatism and voluntarism in the short term, but also in the medium-term, for the EU and the Eurozone, and it is in this spirit that we will work together.
"I will always be a straightforward and constructive partner."
Crucially, both leaders also said they are open to the idea of changing EU treaties to allow for ambitious reform.