Ivory Coast mutiny: Government forces launch operation to quell soldiers' rebellion
Comments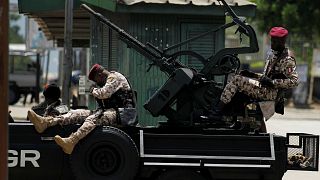 Ivory Coast's military has announced it is launching an operation to put down a mutiny within the ranks.
Soldiers have been threatening armed rebellion after three days of protests over a pay dispute.
Despite popular opposition to the revolt, the soldiers took to the streets across the African country and blocked off the second largest city, Bouaké, on Saturday.
The city's inhabitants marched against the soldiers' insurgency, however, six people were wounded and one was reported to have been killed during the demonstration when the mutineers opened fire on protesters.
According to reports, government troops are advancing towards Bouaké in an attempt to quell the uprising.
In January, soldiers forced the government into paying them each around $8,000 in bonuses to end a rebellion.
The current dispute is over a follow up payment due to have been made earlier this month, but which was dropped.