Lewis Hamilton wins Spanish Grand Prix
Comments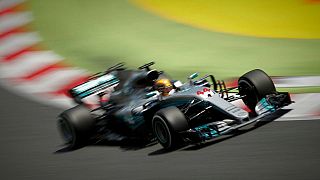 Mercedes driver Lewis Hamilton beat his main rival Ferrari's Sebastian Vettel with action at the outset in Spain's Formula Grand Prix.
Hamilton wins thrilling Spanish Grand Prix https://t.co/QJFeQIqGdf via todayng</a> <a href="https://t.co/TZX6fRt4i7">pic.twitter.com/TZX6fRt4i7</a></p>&mdash; Nigeria Newsdesk (NigeriaNewsdesk) May 14, 2017
Vettel got the jump on polesitter Hamilton just before Valtteri Bottas in the second Mercedes made light contact with the rear wheel of Kimi Raikkonen's Ferrari in Turn One.
It was enough to tip Raikkonen into Red Bull's Max Verstappen, and they both retired with suspension damage.
Later Bottas also retired with suspected engine failure,
and Mercedes, Ferrari and Red Bull all saw just one car make the finish at the Circuit de Barcelona-Catalunya.
There was little to choose between Vettel's and Hamilton's pace – as they completed their second and final stops, it was the German who retained the narrowest of margins.
But Hamilton took the flag three point four seconds ahead of Vettel, with Daniel Ricciardo a distant third.
An excellent race for Force India saw Sergio Perez and Esteban Ocon finish fourth and fifth respectively, with Nico Hulkenberg an equally impressive sixth for Renault.