Possible picks for FBI's top post revealed
Comments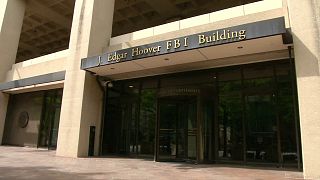 President Donald Trump has said he may make a decision on who will succeed ousted FBI chief James Comey before leaving for his first official foreign trip on Friday. He made the remark onboard Air Force One ahead of an event at Liberty University in Lynchurg Virginia.
"I think the process is going to go quickly because almost all of them are very well known," Trump told reporters in-flight. "They've been vetted over their lifetime, essentially. But [they are] very well known, highly respected and really talented people. And that's what we want for the FBI."
A White House official said 11 people are being considered to replace Comey and some US media have reported that a short list of four has already been made. The Republican-led U.S. Senate will have to rubber stamp the successful candidate.
Defence Lawyer Alice Fisher was reportedly the first candidate interviewed at the justice department. If chosen she would be the first woman to lead the bureau in its history.
Acting FBI Director Andrew McCabe, FBI special agent Adam Lee and U.S. District Judge Henry Hudson are among the other applicants expected to meet Attorney General Jeff Sessions to vie for the position.
We don't need politicians running FBI right now; bad enough that we have Sessions as AG. No mas!!

— Sheldon Whitehouse (@SenWhitehouse) May 13, 2017
Trump's sacking of the man investigating possible collusion between his own presidential campaign and Russia has sparked a political firestorm. Both Russia and the White House deny the allegations.
The Senate Must Not Allow Trump to Appoint His Own FBI Director. Allow The Acting Director, McCabe to Lead this Investigation!!

RETWEET!

— Impeach Donald Trump (@Impeach_D_Trump) May 13, 2017