Pope visits Portugal to make shepherd children saints
Comments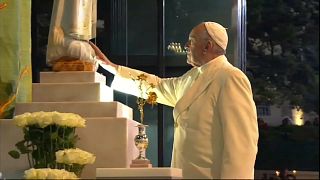 Pope Francis has visited one of the most famous Catholic pilgrimage sites, the Shrine of Fatima in Portugal, to name two shepherd children saints. Many Catholics believe the children received three secrets from the Virgin Mary during six apparitions in 1917.
Some believers walk for miles to reach the sanctuary, often barefoot.
One woman on the pilgrimage told euronews:
"Those who believe that walking the road to Fatima is easy are wrong. It's not…it's painful, but with a group, with good people helping each other…it's a great feeling!"
Rosary at Fatima Centennial #Fatima100pic.twitter.com/YZh8ccCAbd

— Monica Jonan (@monicajonan) May 12, 2017
euronews – Sérgio Almeida
"Thousands of pilgrims from all over the world welcomed Pope Francis in Fatima with joy and a lot of emotion. At the moment they prayed together there was utter silence.
"But the most anticipated moment of the 100th anniversary of the Fatima Apparitions will be when two of the three children are canonised."
Live from Vatican YouTube: 100th Anniversary vigil celebration in #Fatima, Portugal. Look at that rosary! #Fatima100https://t.co/Z0vbWWFeCSpic.twitter.com/KrvlyLPG2Q

— Archdiocese Edmonton (@archedmonton) May 12, 2017
The church teaches that the virgin Mary appeared to the children with three secrets. The first was said to be a vision of hell; the 2nd prophesied the end of the Great War and the 3rd remains somewhat controversial. Some believe it was never fully revealed but the Church insists it related to the persecution of Catholics and an assassination attempt on Pope John Paul II.
The two children to be canonised, Francisco and Jacinta Marto, died shortly after the apparitions aged 9 and 10. The third visionary, Lucia Dos Santos, became a nun revealing more about the events throughout her life. She died in 2005 aged 97.
Addressing a congregation of hundreds of thousands of worshippers, Pope Francis kept to the recurring themes of his papacy: peace, unity and justice for the poor and outcast.
"Thus we will follow all paths and everywhere make our pilgrim way; we will tear down all walls and cross every frontier, as we go out to every periphery, to make known God's justice and peace", the Pope announced.