Paris slips on Sunday best for Macron inauguration
Comments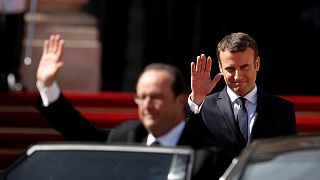 Paris is primped and ready to put on the style for the inauguration of President Macron today.
The capital is abuzz for the Republic's youngest-ever leader, and there is huge speculation about who he is going to pick to lead his government and the direction he will take. There's also plenty on if it will be sunny, and what Macron's wife Brigitte will be wearing.
"It's the first time I'll watch a handover of power, maybe because there's more media hype than before, maybe because Emmanuel Macron has been a new face for the last two years," said one man.
"I can't wait to see what Emmanuel Macron will do starting tomorrow. And for Hollande, a good retirement, that's all we can wish him," said one woman.
France is still under a state of emergency and security will be super-tight for the occasion, which will see Macron drive up the Champs Elysees to lay a wreath at the Tomb of the Unknown Soldier before he enters his new palatial home.