Macron's election team announced; parity and probity
Comments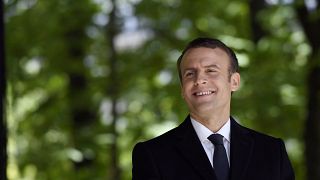 France's new president-elect is entering the second act of his rise to power, and ensuring a working majority in parliament is vital if he is to realise his plans.
And right from scene one he has kept a campaign promise; political renewal.
With eight days to go to register names his ad-hoc "En Marche" party has chosen 428 candidates to field in the June legislative elections, half of them women, and half political neophytes. Average age? Forty-six.
"We have chosen 214 men and 214 women, 52 % of them come from civil society and have never held elected office of any sort, so the promise of political renewal has been kept," said the party's Secretary General Richard Ferrand.
The party began to weed through 19,000 applications in January, and was faced with another wave of thousands in the last few days. One thousand seven hundred hours of interviews have been held to find the right new faces.
They may soon be starting work. On Wednesday President Hollande accepted the resignation of his prime minister and government at their last weekly meeting.
Manuel Valls cherche un job https://t.co/79kzMfsVhv Replay pic.twitter.com/qlvBTF1yVt

— Contrepoints (@Contrepoints) 11 mai 2017
*Some are unlucky in their bid to jump on the bandwagon, like the former Socialist prime minister, who has been the butt of jokes following his failure to get En Marche's backing.
Here he is portrayed showing up at the job centre*