Venezuela: violence continues as the elderly take to the streets
Comments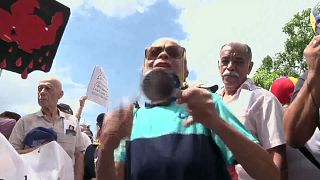 Violent protests in Venezuela have continued into their sixth week with the elderly mobilising for what is being dubbed "the pensioners protest."
Riot police used pepper gas in an attempt to stop the march from arriving at Caracas square.
Some elderly protesters threw punches and chanted: "Freedom! Down with Maduro" and "respect the elderly you sons of bitches!"
Protesting pensioners throw punches in latest Venezuela unrest I https://t.co/XMDwROeTJgpic.twitter.com/4VRFaUoUJO

— Reuters Venezuela (@ReutersVzla) May 12, 2017
Meanwhile, the ruling party organised its own 'rival' old people's march and scores of government supporters also gathered near Miraflores, wearing red and chanting pro-Maduro slogans.
#Venezuela#Maduro blocking protest route for pensioners with shipping containers, concrete slabs: 2 protesters have been killed in area https://t.co/TAiUdRYZWz

— Nicolás Chuchesco (@carloselpana) May 12, 2017
One demonstrator, dressed as Santa Claus told reporters: "The elderly, the grandparents of this beautiful country are going to the ombudsman's office to defend our children and our grandchildren. Long live liberty."
Since April, at least 39 people have died and hundreds injured in the protests which aim at toppling President Nicolas Maduro's socialist government.
Whilst the opposition are calling for the 2018 elections to be brought forward, Maduro insists his foes are enforcing a US backed coup. Claims which seem somewhat incoherent given that Maduro's government reportedly donated 500,000 USD to Donald Trump's presidential campaign.
Despite the country ranking no.1 in oil wealth ,Venezuelans are suffering hyperinflation, a brutal and prolonged recession, a lethal lack of medicine and medical care, and one of the highest crime rates in the world.
"Each tear gas cannister costs more than the minimum (monthly) salary, the government spends more on tear gas than providing food," complained Francisco Viveros, 67, a university protester.
"I'm here for the youth, the students, those who are going onto the streets. We've lived our lives so we should be at the front."