Pakistan bombing 'targets Senate deputy chairman'
Comments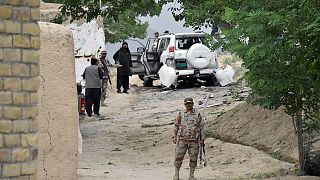 Officials say at least 25 people have died in a bombing, which appeared to target the deputy chairman of the Pakistan Senate.
The explosion occurred next to a convoy carrying the official, in the conflict-plagued south-western region of Baluchistan.
Senator Abdul Ghafoor Haideri was among 35 people injured in the blast.
He told Reuters news agency he believed he was the intended target of the attack.
Haideri, a right-wing Sunni Muslim, is part of Prime Minister Nawaz Sharif's coalition government.
Under Sharif security in Pakistan has improved, but pressure has been mounting since February, when a fresh wave of attacks left over 100 people dead.
ISIL later claimed responsibility for the convoy bombing.