Emirati princesses tried in Belgium on human trafficking charges
Comments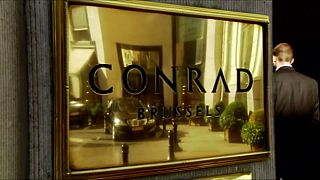 Eight Emirati princesses are on trial in the Belgian capital in a slavery case dating back to 2008.
Sheikha Hamda al-Nahyan and her seven daughters are being tried in absentia on allegations of trafficking and abusing servants over an eight-month period in Brussels.
An Indian butler is also on trial.
"For us it is a highly symbolic case. It is for this reason we wanted to institute civil action," said Patricia Le Cocq, of the MYRIA migration association.
"Firstly, because of the celebrity of the defendants who are princesses from the United Arab Emirates, and secondly because of the form of exploitation here. Here it is domestic exploitation, which is perhaps less well-known than economic exploitation because it takes place in closed circles and is more difficult to detect."
The case reportedly came to light when one of the entourage of 20 servants escaped from the hotel they were staying in.
It's alleged they were brought to the country without work visas and held in inhumane conditions.
The group was reportedly kept inside, forced to sleep on the floor and not paid the correct wages.
If found guilty, the princesses could be fined hundreds of thousands of euros, or even face a prison sentence, although it is considered unlikely they would be extradited to serve jail time.
They deny the charges. The defence contacted euronews with the following statement from Stephen Monod of the Paris Bar:
"The defence considers that the company 'Private Department', which had signed employment contracts with the victims, should be the ones responsible in front of the courts. "It is this company that has signed the contracts and has also taken out health insurance for these employees."
In addition, the defence lawyers argued that the facts of the case were exaggerated by certain victims.
"There are stories that do not hold up. When you hear that workers have to change the bed sheets of the princesses, do you imagine that staff other than the hotel staff change the beds and do the laundry? They have created a story.
"Also, when I hear that their passports are being confiscated to prevent them from circulating freely, I reply that this is not true. Do you think that the family was afraid that they would go away? It would not have been difficult for them to have found staff in this type of work", the lawyer added.