Five LGBT activists detained in Russia
Comments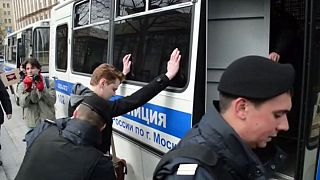 Five LGBT activists have been detained in Russia as they tried to submit a petition calling for an investigation into allegations of the torture and persecution of gay men in Chechnya.
The group met outside a central Moscow metro station to deliver the petition to the prosecutor general, when police detained them for holding an unauthorised protest.
"The police just violated the law and the right to appeal to the power structures which is guaranteed both by the Russian law and the international law," said one activist.
The violent crackdown on gay people in Chechnya was first reported in the Russian newspaper Novaya Gazeta. The article alleged that 100 men suspected of being gay had been rounded up, and at least three of them killed.
Chechen authorities dismissed claims, denying gay people exist in the region.
Russian President Vladimir Putin's spokesman told reporters in April that the Kremlin was following the issue closely, but added that reports of gay men being tortured could not be regarded as reliable.
The Russian LGBT network, which is helping people fleeing persecution in Chechnya, said it had been contacted by 60 people in need of assistance.