Copenhagen Zoo polar bear given dental surgery
Comments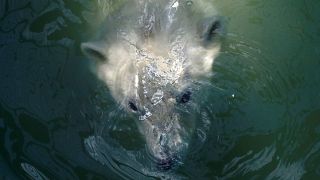 In April Copenhagen Zoo welcomed a new polar bear from Russia, but soon after he arrived, visitors and the zoo's vets noticed the bear had suffered a damaged tooth.
Veterinarian Mads Bertelsen said one large tooth was injured, but it was two smaller teeth which was causing more of pain for the bear. "It was broken and open to the root, so it hurt when he ate", Bertelsen said.
The zoo called in specialist Hanne Kortegaard, who performed the surgery to remove the teeth.
The bear has recovered well, and although he is on pain relief medication, Bertelsen said that after the removal of the tooth, "his general condition (is) so much better that medicine is not necessary".
The zoo's veterinary team is said to be standing by in case a second tooth needs to be removed.