Battle for Mosul: Iraq prosthetic centre treats hundreds of war casualties
Comments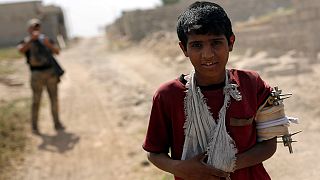 As the battle raged between ISIL and Iraqi forces in Mosul, Iraq, a prosthetic facility endeavoured to help the hundreds of amputees who have lost limbs in the conflict.
The centre, funded by the International Committee of the Red Cross in the nearby city of Irbil, built and fitted artificial limbs for 1,212 people that had been displaced as a result of the conflict and were living in the IDP camps that surround Mosul.
Despite taking on extra staff the facility had a two-month waiting list instead of the usual one week, as a result of the war.
Handicap International has also offered physiotherapy and mobility aid to over 1,600 patients in the area.