Meet the reporter "arrested for asking a question"
Comments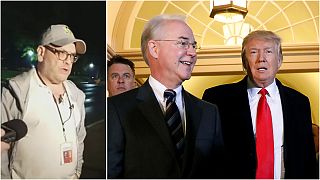 A US reporter has hit out over claims he was arrested for asking a question to Donald Trump's new health chief.
Dan Heyman alleged he was taken away by police after repeatedly questioning Secretary of Health Tom Price about reforms of Obamacare.
The 54-year-old journalist, who works for Public News Service (PNS), wanted to know if domestic violence would be classed as a pre-existing condition under the new laws.
Under Trump's reforms of Obamacare, consumers could be denied health insurance if they already have certain conditions.
"I think it [sets] a terrible example, I think it's dreadful," said Heyman, speaking after being released from jail. "This is my job, this is what I'm supposed to do. I am supposed to go and find out if someone is going to be affected by this healthcare law."
PNS said the official complaint against Heyman was for "causing a disturbance by yelling questions" at the capitol building in West Virginia.
He was reportedly charged with "willful destruction of state government processes".
"This is the first time I've ever been arrested for asking a question," added Heyman. "It's the first time I've heard of anyone being arrested for asking a question."
The American Civil Liberties Union (ACLU) said it was an attack on freedom of the press by the Trump administration.
Jamie Lynn Crofts, legal director of ACLU's West Virginia branch, said: "It's not surprising to me that an incident like this would happen when a reporter tried to ask a question of a member of the Trump administration.
"They have shown us every day since Donald Trump took office that they don't care about the First Amendment, of the free press. Today was just another example of that. It's horrifying."
Trump has repeatedly criticised the "dishonest media" and reporters have claimed the press is under attack by his administration.
Euronews contacted the US Department of Health and Human Services but has yet to receive a response.