Clashes in Chile as students call for education reforms
Comments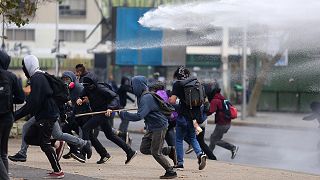 Thousands of students have marched in the Chilean capital Santiago to demand free universal education and for the state to waive student loans.
At one point, a group of protesters broke through police barriers, leading to violent clashes.
Police attempted to disperse the crowd by using water cannons and tear gas.
For years, Chileans have been protesting for increased spending on education and against reforms likely to increase private involvement in the system.