Police clear 1,600 migrants from Paris tent camp
Comments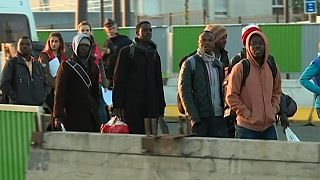 Police cleared a makeshift migrant camp in Paris early on Tuesday, in which more than 1,600 people had been living in squalid conditions for weeks.
Security forces moved into a northern neighbourhood where tents had been pitched near a motorway, close to a temporary 400-place refugee shelter, working flat out to cope with demand.
Housing Minister Emmanuelle Cosse said those in the camp were essentially from Sudan, Eritrea and Somalia as well as Afghans, mostly men.
"And some women and children, who have been taken care of directly," she said.
"Two buses have already left. They are going to shelters in the Paris region today."
Police in Paris evacuated a tent camp where some 1,000 migrants, mostly from Afghanistan and Sudan, were living https://t.co/7VqcpeSFQ8pic.twitter.com/SH4lcE9f1r

— AFP news agency (@AFP) 9 mai 2017
Tuesday's operation was the biggest such evacuation since November when nearly 4,000 people were evacuated from another huge camp in Paris
Thousands of migrants and refugees have been relocated across France since the demolition of the sprawling shanty town known as 'The Jungle' at Calais in the north last October.