Moscow marks Victory Day with shows of civilian and military might
Comments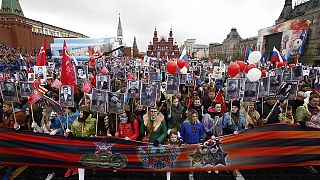 Moscow has marked Victory Day with shows of strength from both civilians and the armed forces.
A reported 600,000 people took part in an 'Immortal Regiment' march to commemorate the end of the Second World War, 72 year ago.
Feelings still run high over the sacrifices of the Soviet Union. It lost more of its citizens than any other country in the conflict – around 25 million.
Moscow resident Alexandra Pavlukhina was among those marching.
"I'm proud of my grandfathers and my only son who joined the military. And if it's necessary to defend the motherland he will be one of the first to do it," she said.
Earlier in the day a military march was also held to celebrate the allied victory over Nazi Germany.
President Vladimir Putin attended the event and gave a speech in which he stressed "No force will be able to dominate our people."
Victory Day is marked across the country on May 9 because it was already past midnight in Moscow when Germany's surrender document was signed late at night on May 8 in Berlin.
Despite Moscow's tense relations with the West, Putin urged worldwide cooperation to combat terrorism and extremism.