Milan: Barack Obama advocates action against climate change
Comments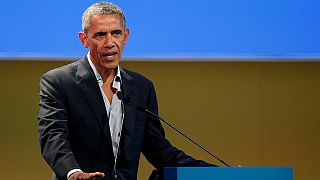 Former US President Barack Obama has called for action to be taken against climate change, in his first public address on foreign soil since leaving office.
He delivered a keynote speech on food security and the environment at the Food City expo in Milan, where he warned global warming could increase migrant numbers to Europe.
"Some of the refugee flows into Europe originate not only from conflict but also from places where there are food shortages that will get far worse as climate change continues. So if we don't take the action necessary to slow and ultimately stop these trends the migration that has put such a burden on Europe already, will just continue to get worse," he said.
The event deals with the effect of innovation and climate change on food availability.
He told those gathered that US companies were committed to clean energy for cost-saving reasons, which should help counteract moves by new President Donald Trump's administration.
Trump has promised to "cancel" the Paris climate change agreement and, in March, signed an executive order reversing a temporary ban on coal mining in an effort to revive thousands of lost jobs in the sector.