Giving peace a chance: Abbas is ready to meet Netanyahu
Comments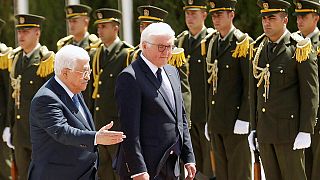 In what could be a first move towards a new Middle East peace process, Palestinian President Mahmoud Abbas said on Tuesday that he is prepared to meet Israeli leader Benjamin Netanyahu.
Abbas was speaking after a trip to Washington last week for talks with would-be peace broker, Donald Trump.
At a joint news conference with visiting German President Frank-Walter Steinmeier in Ramallah, Abbas said: "US President Trump….responded to our invitation to visit Bethlehem soon and I emphasised to him our readiness to cooperate with him and meet the Israeli prime minister under his sponsorship, in order to achieve peace."
Abbas reiterates readiness to meet Netanyahu under Trump auspices https://t.co/iCXg5kEViA#ArabIsraeliConflictpic.twitter.com/qdM5Za0qhK

— The Jerusalem Post (@Jerusalem_Post) 9 mai 2017
While Trump has stopped short of explicitly committing his administration to a two-state solution to the decades-old conflict – despite this being a long-standing foundation of US policy – Steinmeier couldn't have been clearer.
"Those that know the region know that it has now become really urgent to implement the proposals of the two state solution," he told reporters.
"From our point of view, there is no other negotiable solution, therefore now is definitely the time to work on the requirements for it."
When he hosted Abbas at the White House, Trump vowed to do "whatever is necessary" to broker peace between Israel and the Palestinians but gave no sign of how he could revive long-stalled negotiations.
The maiden foreign trips of US presidents often take on broader symbolic significance and Trump has chosen the Middle East as his first stop, later this month.