Ex-French PM Valls offers to stand for Macron in parliamentary vote
Comments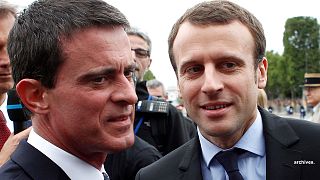 France's former Socialist prime minister Manuel Valls has said he wants to stand for President-elect Emmanuel Macron's political movement in June's parliamentary elections.
The former head of the government under François Hollande had already given his backing during the presidential campaign to Macron rather than his own party's candidate Benoît Hamon – who went on to win barely six percent of the vote.
Valls says the Socialists are dead. He's on the right of the party and has similar pro-business views to Macron.
Macron's movement – now renamed "The Republic on the move" – was non-committal, saying his application will be reviewed.
The move by Valls could be a boost for the president-elect but he'll be wary of embracing too many former Socialists: his conservative opponents have tagged him "Emmanuel Hollande" saying his administration will be a continuation of the last one.
Several figures from the centre-right have also expressed support for Macron, saying they're interested in working for a "presidential majority" in parliament.
France goes to the polls in June for two rounds of parliamentary elections. Macron's young movement currently has no seats, but one opinion poll last week suggested his party may emerge as the largest in the legislature.