Brexit questioned as Labour launches UK election campaign
Comments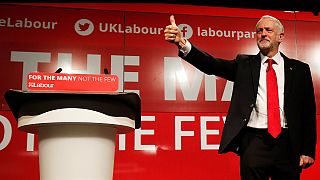 Jeremy Corbyn has reportedly refused to confirm whether he would go ahead with Brexit if Labour were to win the UK election on June 8.
The question now is what sort of Brexit we want.

Labour Party leader
He made the comments to the press following the launch of the Labour Party's official general election campaign in Manchester. During his speech in the northern city, he said the issue of Brexit itself "has been settled" and outlined points to work on following the UK's divorce from the European Union.
While his party's manifesto is due to be released next week, Corbyn said it will focus on "injustice, inequality and opportunities."
"This election is not about Brexit itself, that issue has been settled. The question now is what sort of Brexit we want, and what sort of country do we want Britain to be after that. Labour wants a job-first Brexit, a Brexit that safeguards the future of Britain's vital industries," he announced.
.@IanLaveryMP just kicked off our official #GE2017 campaign launch: #ForTheMany, not the few. Join us live → https://t.co/3XVt6pI9k8pic.twitter.com/T2OC3VlmKD

— Jeremy Corbyn (@jeremycorbyn) May 9, 2017
Vow to remain leader
It comes a day after Corbyn told the press he would continue as leader, whatever the outcome of the vote.
Opinion polls suggest the ruling Conservatives will win a landslide victory. They made significant gains in local council ballots on May 5.
Prime Minister Theresa May has insisted a win for the ruling Conservatives would strengthen her hand in Brexit negotiations.
"We need a strong mandate to put us in a strong position in those negotiations. And every single vote from my local candidates will strengthen my hand in those Brexit negotiations to get the best deal for Britain," she told a crowd in York.
Head-to-head debates?
Theresa May has refused to take part in pre-election head-to-head debates with the leader of the opposition.
She claims her weekly exchanges with Corbyn during Prime Minister's Questions mean she doesn't need to take part in televised contests.
The Labour leader has said he won't agree to the debates without his opponent being present. He argues the only deliberation he wants is among the two people who could form the next government.
Liberal Democrat leader Tim Farron has said his party will take part in all debates offered by broadcasters.
The Scottish National Party (SNP), the Green Party, Plaid Cymru (Wales) and the UK Independence Party (UKIP) have all expressed support for the debates.
Northern Ireland's parties will take part in their own televised exchanges, in a repeat of the 2015 election campaign.