Obama urges Congress to be cautious on healthcare overhaul
Comments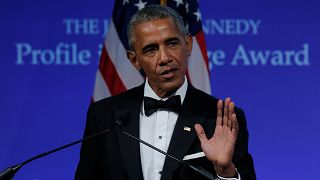 With the US Republicans' replacement for Obamacare due before the Senate, the architect of the law being repealed has said he hopes Congress will look beyond party lines.
Accepting an award in Boston, the former president spoke days after the House of Representatives narrowly passed a bill seeking to overturn the law that enabled 20 million more Americans to get health insurance.
"I hope that current members of Congress recall that it actually doesn't take a lot of courage to aid those who are already powerful, already comfortable, already influential. But it does require some courage to champion the vulnerable and the sick and the infirm," Barack Obama said.
Last week's vote was only a first step in the process. Replacing Obamacare is a key campaign promise of Donald Trump.
The bill passed in the House is opposed by nearly every major medical group. Democrats claim it will deprive millions of health insurance.
Republican senators are said to be sceptical of it. Several representatives admitted they had not read the whole bill.