Jailed Venezuelan opposition politician "alive and well" despite rumours
Comments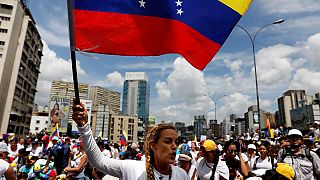 The wife of the jailed Venezuelan opposition politician, Leopoldo Lopez has finally been allowed to visit her husband in prison and says he is in good health.
The news counteracts last week's rumours that Lopez was seriously ill.
In fact Lopez sent a message via his wife, Lilian Tintori, urging street demonstrators to keep up massive anti-government protests.
Venezuela's jailed Lopez is well, urges more protests: wife https://t.co/gJEc7sDvAApic.twitter.com/7UgZS7u29S

— Reuters Venezuela (@ReutersVzla) May 8, 2017
President Nicolas Maduro's leftist government had released a video of Lopez saying he was fine, but his wife, Lilian Tintori, said the footage was "false" and demanded to see him. The government accused the Lopez clan of whipping up a media frenzy to gain attention.
Former mayor, Lopez was jailed in 2014 for allegedly organising violent street protests.
Meanwhile in the capital Caracas, opposition leader Henrique Capriles joined demonstrators accusing the military authorities of detaining hundreds of civilians.
"It is very serious. There are courts established in a military venue to judge civilians and, already, 40 of around 780 people have been sent to prison."
At least 37 people have been killed since the unrest against President Nicolas Maduro began in April.
Musicians and opposition supporters held a rally on Sunday marking the death of a young violinist last week.