Campaigning ends before South Korea's presidential election
Comments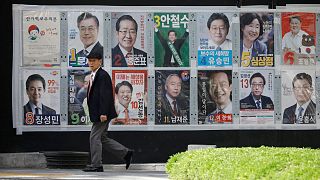 The South Korean presidential campaign is coming to an end ahead of Tuesday's highly anticipated election to choose a new leader after months of political turmoil that saw Park Geun-Hye ousted amid a corruption scandal.
The strong favourite is the opposition leader Moon Jae-in. The 64-year-old liberal has vowed to reopen the difficult so-called "Sunshine Policy" of engagement with North Korea.
While he is given around 40 percent support in the polls, his main rival has only half that level of backing. The centrist Ahn Cheol-soo is a former business chief in the technology sector.
He has offered to subsidise young employees of small firms, who are paid far less than their counterparts in large companies.
In third position in the polls is Hong Jun-pyo, an outspoken former prosecutor and conservative who is advocating a hard line towards Pyongyang.
The 62-year-old has been nicknamed the "Korean Trump" for his unchecked rhetoric and sexist remarks.
After claiming that "washing-up is women's work" and writing about having helped a friend try to rape a woman, he was hounded into apologising by an opponent in a TV debate.
After a period of political upheaval and amid heightened tension with North Korea, it is thought turnout in the election could be the highest for decades.