Banksy shows workman removing star from EU flag
Comments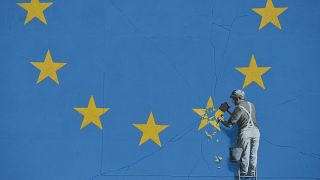 The latest work of graffiti artist Banksy shows a workman removing a star from an EU flag.
The mural was painted on a building in Dover, traditionally the link between England and continental Europe.
The town featured prominently in campaigns for Britain to leave the European Union.
Images of the work were posted on Banksy's Instagram account and a representative confirmed it was his.
The timing of the work coincided with the presidential election in France that pitted anti-EU Marine Le Pen with pro-EU Emmanuel Macron.