Swiss Guard swears in 40 new recruits
Comments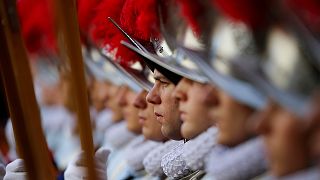 The world's oldest standing army has 40 new members after a Swiss Guard swearing-in ceremony at the Vatican.
Wearing the famous yellow, blue and red uniform with armour each man took a loyalty oath to protect the Pope, swearing to lay down their own life if necessary.
The recruits, who enroll for at least two years, must be single, upstanding Swiss Catholic males under the age of 30.
The ancient ceremony is held on May 6 every year to commemorate the bloody date in 1527 when 147 guardsmen died protecting Pope Clement VII during the Sack of Rome.