Overseas voters cast ballots in French election
Comments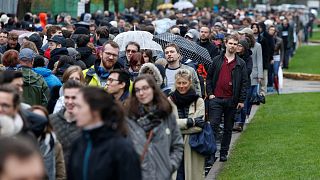 Voters in French overseas territories, and those with French citizenship elsewhere, have been the first to cast their ballots in the final round of the presidential election.
People here in French Guiana among them – with participation in the final hours standing at more than 40 percent.
They vote early to beat the time difference – and to not be influenced by mainland results.
"A very difficult election. We can see very well that people are very, very divided and none of the 11 candidates in the first round unfortunately managed to unite more than 20 percent of the population. It's quite worrying," said one voter.
There are around 1.3 million registered voters outside mainland France.
In Montreal, Canada, voters waited in long lines for their chance to take part in the historic election – seen as the most important in France for decades, with the country's place in the world at stake.
People have also been heading to the ballot box in New York.
Results of votes cast overseas will remain sealed until after polls have closed in mainland France on Sunday evening.