French election: voters decide between Macron and Le Pen
Comments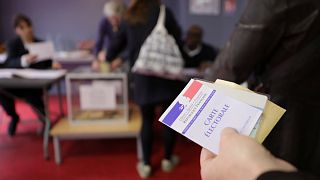 France is choosing whether to elect its first female leader or youngest ever president .
The final round vote pits centrist Emmanuel Macron against the far-right National Front's Marine Le Pen.
Macron was greeted by large crowds as he cast his ballot in the coastal town of Le Touquet in northern France on Sunday morning, where he has a holiday home.
Seen as the most important presidential elections in France in decades, former investment banker Macron and his rival Le Pen, who also cast her ballot in Northern France, have proposed very different visions.
Earlier, outgoing President Francois Hollande, the most unpopular in the country's modern history also voted for his successor in his political fiefdom of Tulle.
Turnout in French presidential elections is traditionally high. More than 40 million people are eligible to vote with early estimates of the result expected at 8pm local time.
Security remains surrounding the vote also remains tight amid fears of a possible terror. Some 50,000 police and army officers are on duty.