UK election: Sturgeon plays down Tory threat in Scotland
Comments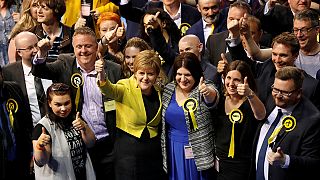 First Minister Nicola Sturgeon has played down the threat from the ruling Conservatives in Scotland a day after Prime Minister Theresa May's party made big gains in local elections there.
Once considered a no-go zone for the Tories, they added more than 150 council seats north of the border ahead of next month's general election.
But while admitting the Conservatives had done well in Scotland, Sturgeon insisted that May's party had eaten into Labour's rather than her own SNP party's support.
"It is interesting if you look at the Tory and Labour support, they are mirror images of each other. The Labour vote has collapsed and gone to the Tories. So it is not the SNP losing ground to the Tories, it's Labour. So, you know, I take nothing for granted going into this election, but I think the day after my party has won by a considerable margin more votes, more seats and more councils than any other party." Sturgeon said.
Thursday's elections saw May's conservatives push Labour into third place in Scotland, while nationally the Tories won more than 550 council seats.
May has urged voters to give her party a bigger majority in next month's election to strengthen her hand in Brexit talks with Brussels.