Pope ashamed of "mother of all bombs" name
Comments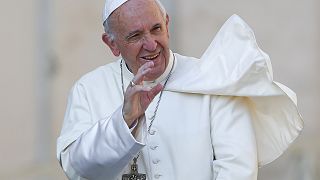 Pope Francis has criticised the name of America's largest non-nuclear explosive – "the mother of all bombs".
The Pope took offence to the word "mother" being used to describe a deadly weapon.
Speaking to students at the Vatican, he said: "I was ashamed when I heard the name of the bomb – 'the mother of all bombs'.
'Mother' should not be used to describe a bomb, Pope says https://t.co/z0SAaBPLK7pic.twitter.com/bdfRzHqp6h

— Reuters U.S. News (@ReutersUS) May 6, 2017
"A mother gives life and this one gives death, and we call this device a mother. What is happening?"
The US Air Force dropped the bomb on suspected Islamic State fighters in Afghanistan last month.
The nickname for the bomb was widely used in briefings and reporting on the attack.
Pope Francis is set to meet US President Donald Trump later this month, in a potentially awkward encounter given their opposing positions on immigration, refugees and climate change.