Kenya's Eliud Kipchoge narrowly misses bid to break two-hour marathon
Comments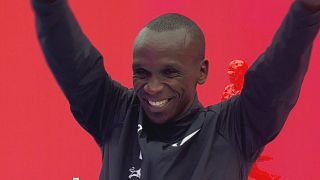 Kenyan athlete Eliud Kipchoge has narrowly missed out on his bid to become the first ever person to run a sub-two hour marathon. He clocked 2 hours 25 seconds.
Despite running the fastest ever recorded marathon, conditions surrounding the race, including the use of pacemakers, meant it did not count as a world record.
Speaking after the run, Kipchoge said: "I am a happy man to run a marathon in two hours. So I think the world is now just 25 seconds out.''
He added, ''I believe in good preparation and good planning, if you've done that then the 25 seconds will go."
Kipchoge, along with two other athletes, chased the landmark time running 2.4km laps on the Monza Grand Prix circuit near Milan early on Saturday.
The event took place 63 years to the day since Britain's Roger Bannister ran the first ever sub four-minute mile.