"Brexit for the many, not the few" promises UK's opposition leader
Comments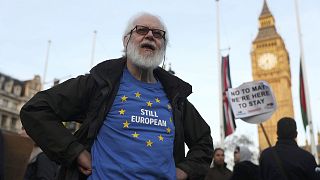 The UK's opposition leader has told voters he will deliver a Brexit deal for the many, not the few, if he wins next month's election.
In a swipe at Prime Minister Theresa May, he said a Labour government would not threaten Europe during negotiations.
At a rally in the West Midlands, Mr Corbyn said: "We will negotiate a Brexit that works for all, for the many, not the few, we won't threaten Europe on the way into Brexit.
Theresa May is strong against the weak and weak against the strong → pic.twitter.com/bPXd5OqU6w

— Jeremy Corbyn (@jeremycorbyn) May 6, 2017
"Above all, in this campaign we'll put forward a proposal and plan for Britain, which is about dealing with inequality and injustice, to have proper health service, properly funded educational service, proper social care, and a housing policy that ensures everyone gets somewhere to live."
He added: "This question is now what sort of Brexit do we want and what sort of a country do we want to be in the future? And who can really be trusted to put working people first?"
Theresa May has accused Brussels of trying to influence the election, as tensions with the EU simmer.
She wants UK voters to give her larger parliamentary majority and a stronger hand at the negotiating table.
Your family's economic security is too important to risk. Who will get the best Brexit deal for your family & the UK – me or Jeremy Corbyn? pic.twitter.com/LOrhZUyrtj

— Theresa May (@theresa_may) May 3, 2017
Mrs May said: "These negotiations are going to be tough at times.
"That means they need strong and stable leadership here in the UK sitting around that negotiating table.
"People must remember this: There will be 27 other European countries on one side of the table and only one person there to stand up for the UK. The question at the general election is who will give that strong and stable leadership: me or Jeremy Corbyn?"
The Prime Minister is on course for a sweeping victory in the snap general election next month, following a campaign dominated by the Brexit deal.