Prison guards in Brazil scuffle in parliament pensions protest
Comments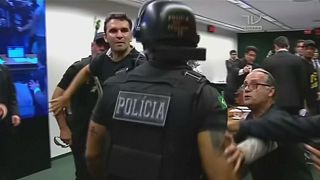 There were rowdy scenes inside Brazil's parliament on Wednesday night after prison guards protesting against new retirement rules stormed the committee room.
Congressional police intervened with pepper spray and the session was adjourned.
The amendment to make Brazilians work longer and reduce pension benefits was passed by the committee. But the measure faces an uphill battle in the full Congress.
The country has one of the world's most generous systems with retirement on almost full benefits possible on average at the age of 54.