Seven-year-old Jamila is another victim of Yemen's civil war
Comments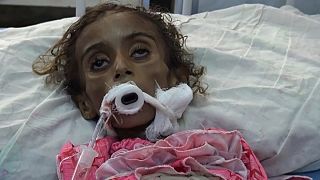 In the midst of Yemen's civil war and after suffering from worms for two years Jamila Ali Abdu gave in to disease and hunger in the malnutrition ward of Yemen's Hodeidah hospital.
The seven-year-old passed away as medical staff in her remote village were unable to treat her condition and her family could not afford to have her transferred to specialist care in the capital Sanaa.
Her father explained that "this pain in her stomach, every time they gave her milk, it worsened. And I've been suffering from kidney failure for the past three years and my circumstances are hard and can't get help from anyone."
Her wartorn country's" roads have been bombed meaning the most basic goods cannot be transported and public finances for healthcare are in chaos.
In what was already the Arab world's poorest country, the two-year war between a Saudi-led military coalition and Yemen's armed Houthi movement, allied to Iran, has thrown been thrown deep into humanitarian crisis.