Russia-Turkey relations have "fully recovered" - Putin
Comments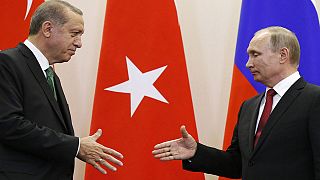 Russian President Vladimir Putin says his country's relationship with Turkey has fully recovered after its recent crisis.
Moscow retaliated against Ankara by imposing economic sanctions following the downing of a Russian warplane near the Syrian border in 2015.
In return, Ankara took measures of its own.
The talks between Recep Tayyip Erdogan and Vladimir Putin, which are said to have lasted an hour and a half, come before Erdogan's meeting with Donald Trump on May 16-17, the NATO summit in Brussels and the international economic forum in China on May 14-15.
[In Photos]Turkish President Recep Tayyip Erdogan meets Russian President Vladimir Putin https://t.co/Gtl2GZ4gUKpic.twitter.com/Nevl5s4VlM

—

ANADOLU

AGENCY

(

ENG

) (@anadoluagency) 3 mai 2017
What Putin said
Speaking after the meeting in the Russian Black Sea resort of Sochi, Putin said relations are getting back to normal and trade is no longer falling.
Syria, energy, terrorism and tourism were on the agenda.
Putin says Russia will launch a joint investment fund with Turkey and added that Moscow will help Turkey improve security measures at its tourist resorts.
What was on the agenda?
The Kremlin press service issued a statement ahead of the meeting.
It said the two leaders would discuss:
The situation in Syria
The joint fight against terrorism
The issue of bilateral cooperation
"The leaders will exchange views on the entire range of Russian-Turkish relations, in particular in the context of the agreements reached at the sixth meeting of the Cooperation Council of the highest level that was held in Moscow on March 10," the press statement said.
"It is also planned to consider current regional and international problems, first of all those related to fighting against terrorism and the settlement of the Syrian crisis."
Erdogan says wants Russian trade restrictions on Turkey lifted rapidly https://t.co/eBILuOCOep

— Reuters World (@ReutersWorld) 3 mai 2017
What about Syria?
Putin says Russia and Turkey are agreed that dialogue is the only way to solve the Syrian crisis.
"President Recep Tayyip Erdogan and I adhere to the viewpoint the Syrian conflict can be settled exclusively by political and diplomatic means," Putin said at the press conference following the talks with Erdogan on Wednesday.
Putin said that pro-active efforts by Russia, Turkey and Iran had put an end to combat operations in Syria and brought the authorities in Damascus and the armed opposition to the negotiating table in Astana.
Putin also said talks are underway on how to control the ceasefire in security zones in Syria.
Russia hopes the Astana talks will lead to the setting-up of de-escalation zones in the country.
"As for the flights over de-escalation zones – combat aviation will not be operating there on condition that no military activity is registered in such zones," Putin said.
According to the Russian president, Moscow has held preliminary consultations on the issue with Damascus and Tehran.
"We share the same position on this issue with the president of Turkey."
Putin said Russia, Turkey and Iran would do everything possible to make such mechanisms effective.
He added that the US supports the creation of de-escalation zones in Syria.
"One of the means of enhancing the ceasefire is to create zones of security and de-escalation. We heard the US president say so in one of his statements."
"Yesterday, we discussed that theme with Trump by telephone. As far as I understand, the US administration supports these ideas."
Erdogan says he and Putin discussed the creation of a de-escalation zone in the region of Idlib.
"A so-called 'green zone' or a de-escalation zone, has been set up there. We hope and wish that the zone will continue to operate. We have used a map to discuss this issue with Mr President today."
"With reliance on the Astana meetings, we must enhance the truce whenever the chance offers itself."
"Yet certain circles spend their energy on disrupting this process. The chemical attack in Khan Sheikhoun was an obvious example of that."
"Such a barbaric attack must not remain unpunished. Mr Putin and I agreed it is extremely important to ensure those who committed the attack should be punished."
International terrorism
There was also a focus on the struggle against international terrorism.
"It was agreed to enhance interaction along these lines between the special services and defense ministries," Putin said.
"In particular, departmental consultations on anti-terrorist operations will continue to be held on a regular basis."
"The war on terror will be ongoing – against such organisations as the so-called Islamic State, Jabhat al-Nusra, who are banned in Russia, and those that are on the list of terrorist organisations approved by the United Nations."
What else did they talk about?
Bilateral cooperation. The two leaders focused on the current disagreements in trade.
Russia still does not admit a number of Turkish agricultural products to its market.
In response, Turkey restricts purchases of Russian grain by imposing import duties.
Despite several rounds of interdepartmental talks, the situation is yet to be resolved.
Erdogan and Putin also discussed oil and gas cooperation and the construction of the Akkuyu nuclear power plant.
They also focused on the purchase of S-400 anti-aircraft missile systems by Turkey.
Negotiations on this topic have been ongoing since last winter. However, nothing concrete has yet been declared.
When did they last see each other?
The previous meeting between Putin and Erdogan took place in March in Moscow.
The leaders have spoken on the phone five times since the beginning of the year.
What Erdogan says
The Turkish president said he would discuss possible operations in Syria's Manbij and Raqqa with Russian President Vladimir Putin during his official visit to Russia
Recep Tayyip Erdogan said he hoped the upcoming discussions with Vladimir Putin and also US President Donald Trump would start a new era in Syria and Iraq.
Erdogan also said he would tell Vladimir Putin that he wants Russian trade restrictions on Turkey lifted rapidly.
Speaking in Ankara before travelling to Sochi to meet Putin, Erdogan told reporters that reaching a political solution to the conflict in Syria was a joint goal of Turkey and Russia.