Rio buses torched in suspected gang-related violence
Comments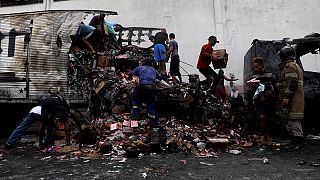 Suspected drug gang members set fire to at least seven commuter buses and two lorries in Rio de Janeiro causing major traffic problems on Tuesday.
Police said the disruption was likely to have been in response to an ongoing anti-drug operation.
Scores of locals began removing the cargo from one of the torched trucks. There were no immediate reports of injures.
Police raid that led gangs to set fire to public buses in Rio de Janeiro ends with dozens of arrests, 5 injured. https://t.co/eWmotfFhJD

— The Associated Press (@AP) May 2, 2017
"We received information from our intelligence service that a rival gang was trying to take control of this territory, so we surrounded the area and waited until daybreak, then we entered into the community and arrested people with the support of the Police Special Unit (BOPE)." said Lieutenant Colonel Benevenuto of the Military Police.
One theory is that the vehicles were set alight to cause confusion while gang members escaped the area.
Throughout the day police raided slums controlled by suspected criminals. By mid-afternoon at least 40 people had been detained and around 30 guns confiscated.
Violence has increased in Rio since the 2016 Olympics. The city's debt-laden state government does not have the funds to maintain a police programme to push gangs out of the numerous shanty towns and to set up posts to keep them out.