Palestinians react after Hamas unveils new charter
Comments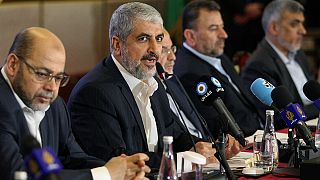 There has been reaction in Gaza and the West Bank after Hamas unveiled its new charter.
The document, presented by the group's leadership in Doha on Monday, appears to soften its stance on Israel.
While still not recognising the country's right to exist, Hamas dropped its commitment for Israel's destruction.
The new political programme, which replaces the group's original 1988 charter, also accepts for the first time the creation of a Palestinian state along the pre-1967 boundaries.
The Israeli government has dismissed the move as a PR stunt aimed at fooling the world.
In Gaza and in Ramallah in the West Bank, Palestinians gave their reaction to the new charter.
Ramallah resident Mohammed Hosni said: "In the speech made by (Hamas' political leader) Khaled Mashaal he was broadly trying to open up a channel with Israel, and you feel like he wants to say to Israel: 'please accept us, please negotiate with us'. This was not like any previous Hamas speech and in general Hamas is weakened by this.''
Over in Gaza, resident Sharaf Kaskeen criticised the new policy document.
"Why did you (Khaled Mashaal) mention in your speech only the 1967 border and not the 1948 land? You didn't recognise Israel but you said that the '67 border is ours and the rest (of Palestine) belongs to Israel."
Esam Bhar, another Gaza resident, said:"What we see in this document is a transitional solution, which means that the international parties can work with Hamas and the Israeli side to reach a cease fire, or a certain understanding which means a realistic solution.''
Some analysts, however, believe Hamas is trying to boost its standing with the outside world.
"There are internal and external factors that led Hamas to soften its positions, to modernise its outlook, to become a party concerned with the international forums rather than the internal forums," analyst Ali Jarbawi said.
While dropping its long-standing association with the Muslim Brotherhood, Hamas' new charter also calls for Jerusalem to become the capital of a new Palestinian state.
The 1967 borders refer to those that existed before Israel captured the West Bank and East Jerusalem, territory it still occupies.