Deadly storms sweep United States
Comments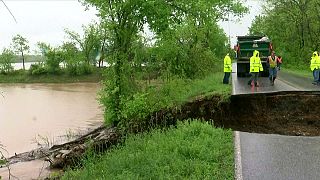 Central, southern and eastern parts of the United States are reeling after a fierce storm system brought torrential rain and tornadoes, leaving at least 16 people dead.
Hundreds of roads were closed in Missouri, one of the worst hit states, where the dead included a 72-year-old woman swept away by high waters, and two men aged 18 and 77 who drowned in separate incidents.
Still getting reports of people driving into flooded roadways! PLEASE #TurnAroundDon'tDrown! Don't risk your life or 1st Responders! #Floodpic.twitter.com/oLgE63HIHz

— St Louis County OEM (@StlCoOEM) 1 mai 2017
I am very proud of our troopers around the state who have been directly involved in 30 water related calls and assisted/rescued 91 people. pic.twitter.com/Evx67k0myB

— MSHP Colonel (@MSHPColonel) 30 avril 2017
Arkansas, Texas, Mississippi, Oklahoma, Illinois, North Carolina and Tennessee were also hit by the trail of destruction.