Blasts cause shock but no injuries in Toronto
Comments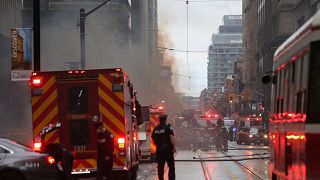 Several explosions in downtown Toronto on Monday were caused by a systems malfunction. Though damage was caused by an overheated hydro vault, and plumes of smoke filled the streets of the Canadian city, no one was hurt in the incident.
The explosions, near the Royal Bank of Canada offices and an underground shopping centre, shut down a nearby subway station and caused police to evacuate several streets and office buildings.
Toronto Fire Platoon Chief Kevin Shaw said the system "overheats, starts melting down… so that's where you're hearing the crackle and the popping" (which others described as explosions).
"It could be dampness, water or an aging hydro vault, or all of the above", said Shaw of the possible causes of the fire.
Shaw added that the area had been shut down because, "you can appreciate it's an electrical fire so it's a lot of plastic, probably some coolants, oils and whatnot in there (the smoke)".
Or, as one witness told CBC, "Obviously it didn't smell very good".