Japan deploys warship as North Korea tensions mount
Comments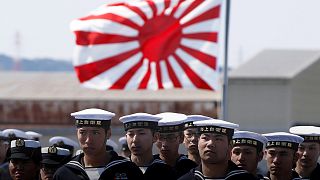 Amid rising tensions over North Korea, Japan has dispatched its biggest warship, in the first such deployment since new laws loosened the limits of the country's pacifist constitution.
The Izumo has reportedly been sent to help safeguard US naval manoeuvres in the region, notably by escorting an American ship on its way to refuel the USS Carl Vinson aircraft carrier group.
Near the Yokota American air base in Japan, residents are on the frontline should Pyongyang attack. Many are philosophical about the risks.
"God only knows. Just think calmly about it," said local shoe repairman Jumpei Takemiya.
"Do we know that Yokota is going to be the first place to be hit? I doubt it. Frankly, I'm not nervous. I watch the news. That is about it."
"There is no way we can run away from it," said local taxi driver Seijiro Kurosawa.
Residents living near US military bases in Japan face fresh reality over North Korea missiles. By @mariyamaguchi. https://t.co/UHGEU2m0HRpic.twitter.com/qfOreIaO3C

— The Associated Press (@AP) 1 mai 2017
"We, Japanese, tend to be like 'whatever happens, happens'. All locals here are like that. That is why we don't have bunkers, shelters or anything similar."
Japan's Prime Minister Shinzo Abe, however, says that North Korea's missile test at the weekend – albeit a failure – represents a serious threat.
"Despite strong warnings by the international community, North Korea today went through with its ballistic missile launch. It is a grave threat to our country. This is absolutely not acceptable. We strongly condemn such acts," Abe told reporters in London on Saturday.
The North has pursued missile- and nuclear weapons-related activities at an unprecedented rate, the latest occurring despite the presence of US warships in the region.
The test came shortly after US Secretary of State Rex Tillerson warned that failure to curb Pyongyang's nuclear and ballistic missile programmes could lead to "catastrophic consequences".
Sec. of State Rex Tillerson warns of "catastrophic" outcome if North Korea is not confronted https://t.co/UBgJCa9BGdpic.twitter.com/gjF3IfljB5

— CBS News (@CBSNews) 29 avril 2017
with Reuters