Trump gathers Asia support over N.Korea
Comments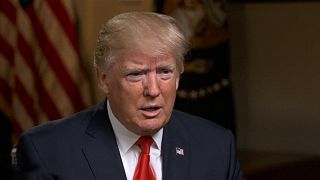 US President Donald Trump has spent the weekend reaching out to allies in Asia as tensions mount with North Korea.
In phone calls with the leaders of Thailand, Singapore and the Philippines, Trump sought their backing should action be needed.
The diplomatic activity follows Saturday's failed missile launch attempt by Pyongyang which drew widespread international condemnation.
North Korea has carried out repeated missile tests in recent months and is threatening to conduct its sixth nuclear test.
"I would not be happy. If he does a nuclear test, I will not be happy. And I can tell you also, I don't believe that the president of China, who is a very respected man, will be happy either," said Trump during a televised interview with the American broadcaster CBS.
When asked why the missiles "keep blowing up", Trump said: "I'd rather not discuss it".
"I just don't want to discuss it. And I think you know me very well, where you've asked me many times over the last couple of years about military. I said, 'We shouldn't be announcing we're going into Mosul.' I said, 'We shouldn't be announcing all our moves.' It is a chess game."
Tensions in the region have increased with both North and South Korea conducting military exercises.
America has sent warships to the region and is installing a controversial anti-missile system in South Korea.
Pyongyang has urged the US to "ponder the possible catastrophic consequences of their foolish military provocation".
U.S. looks at sanctions, military action to counter North Korea https://t.co/t8AbmAJ6YHpic.twitter.com/JRlYnWzcR5

— Bloomberg (@business) April 30, 2017