French election countdown: Macron 'ahead' but Le Pen fights on
Comments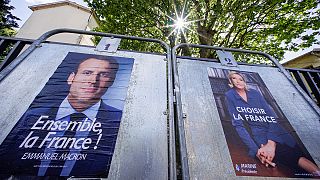 The criticisms are flying in the run-up to the second and final round of the French presidential election.
Opinion polls predict Centrist Emmanuel Macron will win around 60 percent of the vote on Sunday (May 7). His rival, far-right candidate Marine Le Pen, is expected to claim around 40 percent.
Macron sought to paint Le Pen as an extremist who denies French culpability in the roundup of Jews during the Second World War.
"Did you hear what the leader of the extreme right said a few weeks ago about the Vel d'Hiv roundup? The roots are well and truly alive and established," he said.
"I won't forget anything and I'll fight until the very last second, not only against her programme, but against her idea of democracy and what constitutes the French Republic. My views are not the same."
Nous sommes 12 000 #Ensemble aujourd'hui.https://t.co/NgPZyL1mqu

— Emmanuel Macron (@EmmanuelMacron) May 1, 2017
Le Pen has portrayed her pro-EU rival as a continuation of the current, unpopular, Socialist government he was once part of, while labelling herself the candidate of change, belief and action.
"The reality is simple and clear," she said, "Emmanuel Macron is [current president] François Hollande wishing to stay."
"La réalité est simple et claire : Emmanuel #Macron, c'est François Hollande qui veut rester !" #MarineÀVillepinte#DangerMacronpic.twitter.com/5cl4QE6Fcs

— Marine Le Pen (@MLP_officiel) May 1, 2017
"Remain free. I call for lucidity and for you to jump-start the country. Don't give Mr Macron one vote. Don't be guilty of prolonging this unworthy five-year-term. Don't prolong the suffering of a country and people that have had enough," she said.
Her father, Jean-Marie Le Pen, has long courted controversy for his views on the Holocaust. Despite being expelled from the party almost two years ago, he called on supporters to back his daughter in the election.
---
Discover euronews quotes and opinions about the 2017 French Presidential Election to get all views.