French election: Emmanuel Macron raises Frexit fears
Comments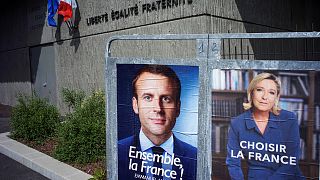 French presidential frontrunner Emmanuel Macron has raised the alarm about the risks of Frexit.
A committed European, Macron is quoted by the BBC as warning that the EU must reform to avoid the prospect of France following in the UK's footsteps out of the bloc.
In next weekend's second round run-off vote, he is up against far-right firm Eurosceptic Marine Le Pen, who has tapped into anti-establishment frustration.
"Yes, there is anger. Yes, this anger has found an outlet in the National Front vote, but under no circumstances does the National Front offer any answers to the causes of this anger," Macron told French TV news on Sunday night.
"I don't want to validate this theory that there are two Frances. My role is to reunify the country."
French presidential candidate Emmanuel Macron has urged Brussels to reform or risk "Frexit" https://t.co/DKp5zgdh8Ppic.twitter.com/3eR5WIO0Vq

— Newsweek (@Newsweek) 1 mai 2017
With Europe one of a host of issues dividing the pair, Le Pen agrees that next Sunday's vote will mark a key turning point in the history of France, which her National Front hopes to govern after efforts to clean up its controversial image.
"We are at a crossroads. A matter of crucial importance for civilisation will be decided," she told the same Sunday night news bulletin, in a separate interview broadcast by the France 2 channel.
"What will France be tomorrow? Will it be the France that I love, that the French people love or will it be a sort of stock exchange open to all the violent, ill winds of globalisation?"
France's Le Pen on offensive with vote a week away https://t.co/FWjvE7aMKbpic.twitter.com/UYueZHtxUe

— The Local France (@TheLocalFrance) 1 mai 2017
The polls predict Le Pen will lose. But after Brexit and Donald Trump's victory, she is looking to come up with another surprise.