Ex-tycoon Eike Batista leaves Rio jail ahead of bribery trial
Comments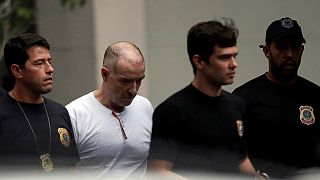 Brazilian oil and mining magnate Eike Batista has left a Rio de Janeiro jail for house arrest ahead of a trial on corruption charges.
He is accused of bribery and hiding illegal funds offshore, but denies any wrongdoing.
Prosecutors allege Batista paid $16.5 million (14 million euro) to the ex-Rio de Janeiro governor for his businesses to win lucrative government contracts.
At one time Batista was one of the richest men in the world with an estimated financial worth exceeding $35bn.
(33bn euro)
Brazil's Supreme Court ordered his release because the alleged crimes did not involve violence.