Hungary's PM Orban 'to comply' with EU demands over education law
Comments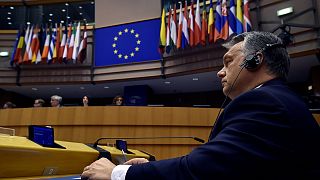 Hungarian prime minister Viktor Orban will comply with demands from Brussels over an education law that threatened a top university, the leader has told his centre-right political group in the European Parliament.
A statement released by the European People's Party (EPP) said the group had an 'open and frank' discussion with Orban.
"The EPP Presidency sent a clear message to Prime Minister Orbán and his party, Fidesz, that we will not accept that any basic freedoms are restricted or rule of law is disregarded. This includes academic freedom and the autonomy of universities. The EPP wants the CEU to remain open, deadlines suspended and dialogue with the US to begin," EPP President Joseph Daul said in the statement.
On local TV Orban insisted it wasn't a climb down, and said he would 'negotiate' with the EU in the coming months over the 'final result'.
Brussels had threatened legal action over the law branded an attack on academic freedom, which could close the Central European University in Budapest, established by billionaire philanthropist George Soros.
On Wednesday, the bloc gave Orban a month to adapt the higher education law passed on April 4, saying it was incompatible with fundamental European freedoms. It has also led to some of the biggest protests in the Hungarian capital since Orban came to power.